The Unboxed Mind is a web journal fostering thoughtful engagement with politics, religion, and society, and a focal point for projects that come out of the same. Seeing the state of discourse in our culture right now, I have become convinced it is necessary that people of good will start entering the public conversation in a purposeful and substantial way. This site and the projects which I hope may come from it are my small offering in that vein.
My own writings will, for the time being, kick off the conversation. However, my intent is that ultimately numerous voices would be found here, and that this would grow beyond a blog format into a more full-fledged publication. It is also my hope that every piece published here will serve as a starting point, rather than an ending point, of productive discussion on some topic. I recognize that the current commenting system is by no means adequate to fully carrying on the sort of dialogue I envision, which is why among the planned projects of The Unboxed Mind is the development of a much more capable forum for worthwhile online conversation. But in the meantime, if you are of like mind in the aim of elevating public discourse to a more civil and productive place, I invite you to read, and I hope you will engage with what you find here.
—Trajan McGill, March 2012
---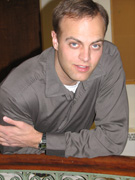 My name is Trajan McGill. Besides maintaining and writing for this site, I work as a software development consultant. I am a former firefighter and a current candidate for ordination in the Presbyterian Church (U.S.A.). I live in the Chicago area. I can be contacted at trajanmcgill@unboxedmind.com.